Dirt Bike Motor Oils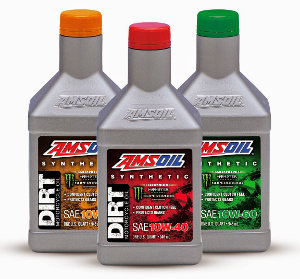 Innovation and technological advancement continues with AMSOIL dirt bike oils. AMSOIL developed the dirt bike oils after hundreds of hours of rigorous chemical & mechanical lab testing to engineer a motor oil to address all of the unique challenges faced by dirt bikes and their riders.
Just like how automotive brakes fade under heavy use and heat build up, dirt bike clutch feel becomes inconsistent with heavy use. This inconsistency can become troublesome in racing environment as well as while negotiating tricky terrains. Industry experts believe, inconsistent clutch feel to be a mechanical limitation but AMSOIL engineers believed otherwise.
AMSOIL dirt bike oil evolved by formulating a motor oil that can handle the stresses of extreme heat while providing cooling and wear protection to the clutch. The performance offered by AMSOIL dirt bike oil is beneficial on the trail and at the track. The rider will quickly notice the added capabilities of their dirt bike, confidently pushing the envelop even further than before.
AMSOIL dirt bike oil was also tested with professional teams in Monster Energy Supercross, AMSOIL Arenacross and AMSOIL GNCC to further fine-tune for outstanding wear protection and consistent clutch feel.
AMSOIL Synthetic Dirt Bike Oil delivers the confidence and performance you need to get on it and get out front.
Consistent Clutch Feel
Fuel Additives and Carburetor Cleaner
Synthetic Suspension Fluid & Spray Lubricants
Cleaners & Protectants
Dirt Bike Oil & Air Filters